Dr Alexander Weiss
Research Interests
Personality and subjective well-being in humans, nonhuman primates, and other animals; the evolution of personality and subjective well-being; aging and development; behavior genetics; differential epidemiology; quantitative methods
Biography
BA in Psychology (1993), California State University, Los Angeles
MA in Comparative Psychology (1996), California State University, Long Beach
PhD in Psychology (2002), University of Arizona
Post-doctoral IRTA (2002-2005), National Institute on Aging
Office Hours
My office hours are from 4-5 on Tuesday and Thursday.
Representative Publications
Human research interests
Deary, I. J., Weiss, A., & Batty, G. D. (2010). Intelligence and personality as predictors of illness and death: How researchers in differential psychology and chronic disease epidemiology Are collaborating to understand and address health inequalities. Psychological Science in the Public Interest, 11, 53-79.
Weiss, A., Gale, C. R., Batty, G. D., & Deary, I. J. (2009). Emotionally stable, intelligent men live longer: The Vietnam Experience Study Cohort. Psychosomatic Medicine, 71, 385-394.
Weiss, A., Sutin, A. R., Duberstein, P. R., Friedman, B., Bagby, R. M., & Costa, P. T., Jr. (2009). The personality domains and styles of the Five-Factor Model predict incident depression in Medicare recipients aged 65 to 100. The American Journal of Geriatric Psychiatry, 17, 591-601.
Animal research interests
Weiss, A., Adams, M. J., Widdig, A., & Gerald, M. S. (2011). Rhesus macaques (Macaca mulatta) as living fossils of hominoid personality and subjective well-being. Journal of Comparative Psychology, 125, 72-83.
Bervall, U. A., Schäpers, A., Kjellander, P., & Weiss, A. Personality and foraging decisions in fallow deer, dama dama. Animal Behaviour, 81, 101-112.
Briffa, M., & Weiss, A., Animal personality. Current Biology, R912-R914.
Grants/projects
Books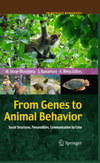 M. Inoue-Murayama, S. Kawamura, & A. Weiss (Eds.) (2011, February). From Genes to Animal Behavior: Social Structures, Personalities, Communication by Color. Springer.
Available from: Amazon.com and Amazon.co.uk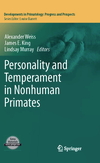 Weiss, Alexander; King, James E.; Murray, Lindsay (Eds.) 1st Edition (2011). Personality and Temperament in Nonhuman Primates Springer.
Available from: Amazon.com and Amazon.co.uk
Curriculum Vitae
Links
Roxanne Hawkins (PhD Clinical Psychology, School of Health in Social Science)